Aa2230 Gun Powder (8 Lbs) by WESTERN & ACCURATE POWDER
Product Overview
We are proud to offer the Aa2230 Powder (8 Lbs). Aa 2230 Smokeless Powder is a spherical type powder that meters very well. Accurate No. 2230 Smokeless Powder is a fast burning powder designed to give good velocity for a large variety of cartridges such as the .22-250 Remington, .223 Remington/5.56 NATO, .204 Ruger, and .308 Winchester/7.62 NATO. Ac curate No. 2230 Smokeless Powder is a clean burning powder and this will lead to less cleaning and longer shooting times between cleanings.
Summary
Accurate No. 2230 Smokeless Powder 8 Lbs is now available from Midsouth. Civilian reloaders now use it for .22-25, .223/5.56 NATO and .308Win/7.62 NATO. Accurate No. 2230 Smokeless Powder is cleaner burning which means less residue in the barrel.
Specifications and Features:
Fast Burning
spherical powder type for good metering
.22-20, .223/5.56, .308/7.62 and more
Gun Powder
Gunpowder, commonly referred to as black powder, differentiates it from the modern smokeless powder It is the first chemically known explosive. Gunpowder is a low explosive: Gun powder does not detonate, but rather deflagrates (burns quickly).
Gun powder, also commonly known as black powder to distinguish it from modern smokeless powder, is the earliest known chemical explosive. It consists of a mixture of sulfur, carbon (in the form of charcoal), and potassium nitrate (saltpeter). The sulfur and carbon act as fuels while the saltpeter is an oxidizer. Gun powder has been widely used as a propellant in firearms, artillery, rocketry, and pyrotechnics, including use as a blasting agent for explosives in quarrying, mining, building pipelines and road building. Gun powder is classified as a low explosive because of its relatively slow decomposition rate and consequently low brisance. Low explosives deflagrate (i.e., burn at subsonic speeds), whereas high explosives detonate, producing a supersonic shockwave. Ignition of gunpowder packed behind a projectile generates enough pressure to force the shot from the muzzle at high speed, but usually not enough force to rupture the gun barrel. It thus makes a good propellant but is less suitable for shattering rock or fortifications with its low-yield explosive gun power. Nonetheless, it was widely used to fill fused artillery shells (and used in mining and civil engineering projects) until the second half of the 19th century, when the first high explosives were put into use. Gun powder is one of the Four Great Inventions of China.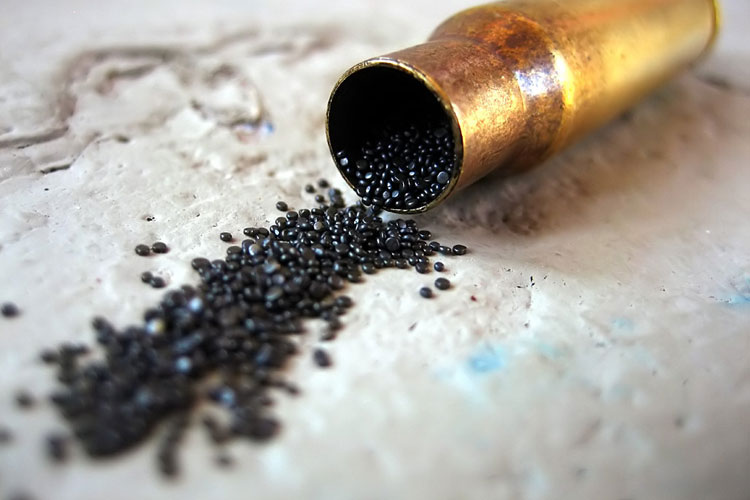 Originally developed by the Taoists for medicinal purposes, it was first used for warfare around 904 AD. Its use in weapons has declined due to smokeless powder replacing it, and it is no longer used for industrial purposes due to its relative inefficiency compared to newer alternatives such as dynamite and ammonium nitrate/fuel
  Smokeless Gun Powder
When shot, weapons and artillery using smokeless powder create far less smoke and fouling than those using gunpowder (sometimes known as "black powder"). Black powder, in contrast, produces around 55% solid products (primarily potassium carbonate, potassium sulfate, and potassium sulfide), while the remaining 45% are gaseous. Furthermore, unlike black powder, which leaves behind a thick, heavy fouling of hygroscopic material that eventually rusts the barrel, smokeless powder leaves no such residue.
Reloading? Sensiflex Supply is your one-stop shop. Because of our excellent customer service and low wholesale rates, we have become the leading distributor of all smokeless powder brands. Among the many available options are Accurate Powder, Alliant Powder, Hodgdon Powder, IMR Powder, Shooters World Powder, Ramshot Powder, Vihtavuori Powder, and Winchester Powder. We stock everything required for reloading, be it for a pistol, rifle, or shotgun. We combine the shipping costs of powder and primers into a single package. We can accommodate orders of any size, from a single pound to many hundred. Everything from gun powder and primers to bullets, brass, and reloading equipment is available in our shop.