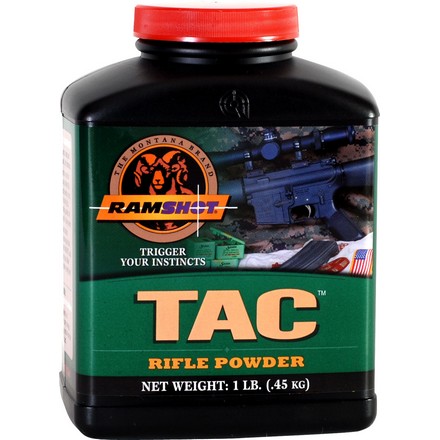 Ramshot-TAC Smokeless Rifle Powder (1 Lb)
Ramshot-TAC is a versatile rifle powder that performs well in a number of different calibers. TAC has the ability to provide some of the industry's highest velocities for 80 grain bullets in the .223 caliber while maintaining SAAMI pressure guidelines. Ramshot-TAC rifle powder is a double-based reloading smokeless powder providing for ease of metering and consistent charge weights. Ideal Calibers: .223 Rem, 308 Win. Grain shape is flat ball.
In addition to other items, our warehouse also stocks and ships smokeless powder, black powder, primers, and fuses. Unless you additionally order products that Ship Separately from
Sensiflex Supply
or our Suppliers, this means you will only be charged one Shipping Charge and one HazMat Charge per order. You may not purchase more than 25 pounds of black powder and 66 pounds of smokeless powder, primers, or fuse in a single order. Due to their dangerous nature, smokeless powder, black powder, primers, and fuses can only be shipped through ground freight within the United States. No returns will be accepted for smokeless powder, black powder, primers, or fuses due to safety and legal/regulatory concerns.